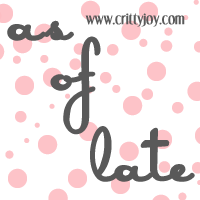 Welcome dear Peaches to this month's As of Late!  
For more information on As of Late you can go here.
Just grab the button code above if you want to use the button in your post.
Announcement:  As of Late is no longer a linky.  I am still going to write a post every month but no longer host a link up.  However, if you would like to join me you can leave your link in the comments and I will most definitely come visit!
Lately I have been thinking about this song.... and how much I want to see it performed live.  (The video...to watch them play this song with such joy and gusto... it brings a smile to my heart.)
Lately I have been thinking about how Saturday is my 5 year anniversary of blogging.  Which sort of boggles my mind.  I am 79 posts away from 1,000.  I am pondering some sort of way to celebrate.
Lately I have let bitterness creep in but today I was challenged by Amy's post.  I am going to start counting gifts.  
Lately my heart is SO excited.  One of my dearest friends is getting married this weekend.  It's amazing what God has done in her life in the last year.  It's beautiful to think about.
Lately waiting for this day has taken forever....tonight it's the Braves game with some favorite people.  
Lately quiet mornings filled with tea, scones, and fog have been my favorite.
Lately I am reminded of how thankful I am for brave friends who take on hard things.
Lately I have decided to add more British slang to my vocabulary.  No one says it like the Brits.  ;)
Lately my little love has delighted my heart.  Being silly with her is one of my favorite things.
Lately I am wishing for the beach, margaritas, and shenanigans with heart friends.  
And so I have been wondering what has been going on with you as of late?