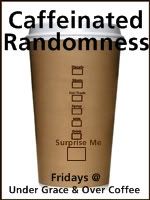 I have two things to today....
1. Substance.
Sweet Jen from Finding Heaven gave me a blog award!  She thinks I have a blog with substance.  Which blesses me to no end :o)  Thanks Jen!  Jen has been such an encouragement to me since losing my Memaw almost two months ago.  And she is funny...that is always a plus in my book ;)
Here are the rules:

Thank the blogger who awarded it to you. (did that above!)

Sum up your blogging philosophy, motivation, and experience using five (5) words. example:  Story, Creativity, Fun/Humor, Encouraging, and Life-changing.  (the experience has definitely been life changing...God has brought some amazing people into my life through this little ole bloggy!)


The five words I would use for my blog are:  Since things are kind of changing next week I am going to give you 5 hints ;)   Interactive, Raw, Journey, Freedom, and Struggler.  (some of those words will make more sense next week!)


Pass it on to 10 other blogs which you feel have real substance.....  So I am going to take this opportunity to tell you about some of the most amazing people I know on the internets....
First a few old friends who I absolutely adore and who I love reading....  These ladies are friends.  FRIENDS.
Tracy at Woman, Faith, Words. Tracy's new home is one of my favorite places :)  Her words challenge me and she is one of my dearest friends who just loves me and encourages me.  She makes my life better.
Kristen at Exemplify's Editor's Blog Kristen's Monday Musings are challenging me a lot!  She is kind of quiet right now but how I love her and her writings.  She was one of my first bloggy friends!!  Kristen is one of my dearest friends who I don't know what I would do without.
Andrea at Under Grace Over Coffee An is on a break right now but I adore her and her heart for women and their worth.  She reminds me constantly I am a beautiful woman of God worthy of so much...and I feel like I am a part of her family.
Kara at Kara with a K Kara is my twin...bloggy twin...we have so much in common and I just adore her and I love hearing her heart through her writing...
Amy at Filled With Praise Amy definitely wins for making me cry the most ;)  Her and her family's journey to their son Elijah touches my heart and challenges me to see the world differently.  She is also one of my favorite people with a heart of gold!
Lauren at Living By Faith Lauren is making some amazing changes in her life and getting back to the basics....and her and her husband's journey to their son Tucker is ongoing but oh what a beautiful one it is!
Victoria at Let the Son Shine. I miss dear Victoria blogging more but she has some new things going on and I am so excited for her.  I love her penchant for retro words and 80's references...and her love of our God!
Amanda at Teasingly Diverse. Amanda is one of my favorite people and a law student.  She challenges me to get to know more about the world around me...especially the government and the like.  She and I share a passion for travel...and a love Paris...and so many other things :)
And three newish blogs I adore!
Erin at Home's Where My Heart Is I love Erin...she is so funny and so encouraging.  I am so glad she found me...and I found her!
Erin at My Alabaster Jar introduced herself to me earlier this year and I just love her heart...and her photography!
Manda at There is a Time... is one of those blogs that challenges you and makes you think...and her writing is beautifully lyrical.
Okay.  I have to stop....I seriously could go on...
And to be honest....I wish I could give YOU an award.  Those of you that come each time and read my ramblings and musings and take the time to comment....  I <3 each of you.
2.  Questions.
In honor of my relaunch next week I am going to do an Ask Me Anything edition of Caffeinated Randomness next Friday. I have such fun answering the questions you ask and sometimes you challenge me with those questions!  All you have to do is leave me a question in the comments about something you might like to know about me or my little ole bloggy!
For more Caffeinated Randomness visit Mrs Caffeine herself Andrea at Under Grace Over Coffee!
Have a lovely weekend my Peaches...and don't forget to ask me a question in the comments and come visit on Monday as I unveil my new thing with this blog!