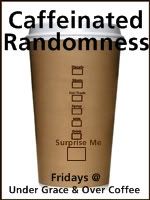 Okay so I may be watching Glee at the moment and they just finished singing Ice Ice Baby....and the end of the song may or may not end with the phrase above....
But really?  Could Ice Ice Baby have made a better comeback than Will Schuster doing his awesome rendition?  
I think not.
Okay, Okay..... back to my blog post (be prepared...much randomness ahead!)
I had plans of telling you some blog business today about what would be happening over the next few weeks...
BUT...
Something exciting happened yesterday.  My friend Becky was admitted into the hospital at 7 p.m. last night and will be induced this morning.
Baby NOAH is coming!
Becky is one of my BFFs....I mentioned one earlier this week, Allison, and my other BFF Beth lives in Michigan and I don't get to see her very often....she has a sweet little girl named Brynn.  Yes I have 3 fantastic BFFs.  I am so blessed!
Also Glee just started You Can't Touch This....what a fun musical night this has been....
Okay...back to the post...
I am easily distractible when I am excited...did you notice?
So this morning instead of catching up on sleep and blog reading...I will be sitting with my dear friend as she prepares to have her sweet baby.  What makes this so very special is if you were reading my blog at the beginning of last year (and well that's not many of you) she miscarried her first child.  Today is a very special day and I am so excited to celebrate it with her.  I cannot think of anything better than welcoming her sweet boy into this world.
Who knew I would ever be so excited to sit at a hospital and wait ;)  Of course this is just the first time...I will be doing this again next month when my sweet niece is born!
Two sweet babies to cuddle and love on?  How in the world did I get so lucky.
And just another Glee moment to end with....It's called being SASSY Mr Schu.....
Best quote ever.  (on a side note...Emma's Eiffel tower sweater?  ah-mazing.)
Well.
You certainly got your dose of randomness here today didn't you?  haha!
For more Caffeinated Randomness visit the lovely Andrea of Under Grace Over Coffee.
So have a wonderful weekend Peaches and I cannot wait to catch up with you this weekend.