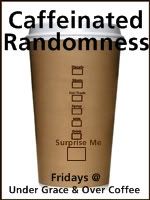 And I am Lonely...  I seem to have Matchbox 20 in my head this morning.  If I could only change the lyrics to be 4 a.m. as that seems to be the time my body likes.  Either I am still awake at that time or waking up at the time.  Insomnia is stinky.
Although, currently, my cat is giving me a back massage so it can't be all that bad ;)
So in other words be prepared for random thoughts....
Can I just tell you that I watched the most intense season finale last night....well played, Grey's well played.
And I am a little nervous about my Jack and the series finale of 24 on Monday.  
I may be a television addict.  ;)
Today I am also thinking of two sweet babies.  
Noah is doing well....he is 1 week old today!  My sweet Becky could use some prayers though.  She is so exhausted.  I am going to spend Saturday and Monday with her...she just needs someone around right now.  Not that I know much about babies or anything but I can just be there for her.
It's funny....I did really well last week (on Friday) after they took her down (for the c section) but when she came back up and they had her in her room for a while I was anxious to see her....to the point I was going to walk down just to see if I could say hi and to check on her.  About that time the surgical nurse came out and called my name saying she was asking for me.  When I saw her I lost it a little.  It was just so important to see that she was okay....and I was overwhelmed with the beautiful fact she was a Mommy.  I have thought so much about the wonderful beauty of friendship this week and that moment.  Friendship is so special, isn't it?  I am blessed to have some people in my life that I can call true friends. 
And in other baby news....Toccoa is full term and ready to go.  She has dropped and is in position so now....we just wait!  Cort is dilated a few centimeters....I can't believe the moment we have been waiting months for is almost here.  I start doing the snoopy dance in my head when I think about it ;)
Nothing much is happening otherwise.
I am at an odd place in so many ways and I am struggling to find even footing right now... it's a strange place to be and one I am not familiar with.  It's going to be okay....I just keep believing that.
Well that's all the randomness I have in me today Peaches...
For more Caffeinated Randomness visit the Queen of Caffeine, Andrea, at Under Grace Over Coffee.