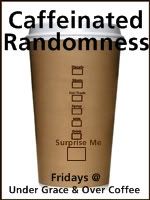 It's Friday.
Yay!
I have been so exhausted all week but I am very much looking forward to this weekend.  Why?  Because Beth Moore is going to be in town doing her So Long Insecurity simulcast.  Unfortunately we are in the chapel and not the sanctuary at Woodstock First Baptist but still...to share this with all of those women....how fun!  And I plan to meet up with some Awesome Bloggers!!  Are any of you Peaches going to the simulcast?  If you are going to be in Woodstock....you must let me know :)
As for the Baby Shower recap...what to say, what to say?  It was a good shower.  Initially when I got there I was a little upset because the place had things all over the walls.  So my ideas were thrown for a loop.  I improvised and decorated to the best of my ability. 
I worked hard on this T and H.  I found them on clearance and they were this horrible pink and purple so I painted them...for weeks.  There are a lot of coats of paint on those letters!

 
 The amazing cake.  It resembled the baby bedding to perfection.  Wow.  I was so impressed as was Cort and Howie.  And it was yummy too.


Here is a view about 15 minutes before the shower started.  I did not get a lot of photos because I was so very busy.  The table decorations are balloons tied to baby items like rubber duckies and old glass milk bottles some with daisies and some with green, brown, and pink m&ms.  I won't tell you how long it took to separate the m&ms!

We had things for the guest to write something for Toccoa on...and one in my particular is my favorite...you can see that it says Always be Good... Isabella is 4 and she worked really hard on this!

Howie and Cort reading some of the cards.

  Cort with the table of yumminess.  She is 33 weeks here.  The ladies did a fab job with the food and all I had to do was order the cake and do the punch (plus all the decorating etc) So that was a great load off of my shoulders.

All in all the shower was wonderful and Toccoa received lots of wonderful things.  And I had enjoyed hosting it....I am so glad it is over though :)
So there you have it!
And another question for you my Peaches...I am updating my blog roll and if your blog is not listed will you let me know?  I would love to add you to my roll...and to read your blog...if I don't already!
For more Caffeinated Randomness visit Andrea at Under Grace Over Coffee.
Have a fabulous weekend!