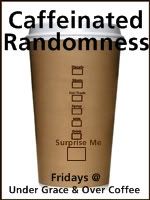 Where in the world did this week go?  I cannot believe it's Friday.  My spring break has gone by so quickly.  Earlier this week I gave you the opportunity to ask me anything...4 of you did and so today I get to answer those questions.
The first question is from Rachel.  And just an FYI...she is doing an amazing study on her blog right now called To Know Him More.
What prompted you to get into counseling, and what is the biggest challenge you've faced since you've been counseling?

My Mum always told me that when I was younger I always talked of being a counselor.  I have always wanted to work with kids with cancer.  After my first college experience I was so unsure of what I wanted to do.  I had 4 majors in a year and a half.  When my youth pastor took a group of us to my alma mater as we toured we went into the counseling building.  I knew as we walked through the building I wanted to be there.  And two years later I was.  I love what I do.  I love listening and just being there for someone.  I love offering encouragement and showing love. I am very much an introvert and so a one on one thing is perfect for me.  The best thing is...being the hands and feet of Christ in this area.  I am just an instrument....He does all of the work.  The restoration?  The beauty?  The healing?  HIM.
As for the biggest challenge.  Where to start.  I work with teen girls.  Abuse, abortion, and cutting are the biggest things I have dealt with.  It's hard to take yourself out of the equation in these instances....to not sit there and cry with these girls.  To not let your heart break.  You learn quickly to turn things over to our God.  And to just listen and love.
One of the biggest challenges also is at times dealing with the children's services in the state I live in.  It is a horrible experience and I am glad it does not happen very often.
Sweet Amy knows how to ask the tough questions :)
Has their every been a moment in your life where time just seemed to stand still? If so, what was it and how did you feel?

Umm now?  I am in a season of Wait.  haha!  I am experiencing freedom in so many ways yet life seems at a stand still.  I have dreams and ideas that I know will come to fruition but He is saying wait.  And being a single girl...it seems lately life has been in a bit of a stand still more than usual.  I think part of that is the freedom I have been experiencing in life as well as just the fact that I am in my 30's and dream of a life with a great husband...and children.
As for what it feels like...strange, scary...and yet freeing.  Freeing because this is the first time I am really waiting and being patient...for what He has planned and not what I have planned.
If you don't read Heidi's blog you should.   She always makes me think...and she loves music and has put up some amazing songs and lyrics on her blog. 
What is your favorite thing to write about?

I think it's what God is teaching me.  I so enjoy sharing about what He is showing me in my own life....and hope it sparks something in someone else.  I guess I just plain enjoy writing.  Putting my thoughts into words on paper or my computer.  I have also started writing just for pure enjoyment.  You often don't get to see that here but I love it.  
I also love writing for Exemplify because it presents a challenge and it takes me out of my comfort zone.  Putting myself out there and sharing about my singleness is scary yet I have learned so much from it...and experienced a lot of freedom as a result.
Finding my passion for writing again has been a most wonderful gift.
I am now going to call Tracy the most interesting question asker ever.  She asked me three and they are brilliant! 
 If you were a zoo animal, which would you be? Remember that you are living in captivity, not in the wild. 
I have had to think a lot about this one.  I think I would be a Panda bear.  They are cute and cuddly.  Plus they do well in their habitat.  Plus I think they sleep a lot and I would love to catch up on some zzzzz's!
 Would you rather live in a convent or a tower waiting for your prince for the rest of your life? 
Okay.  I think I am over thinking this question.  At first I thought convent because hello I would have others with me.  At the same time I think I would like a tower.  I mean I could invite others over right...and still have my privacy.  
So...tower.  :P
What is your favorite type of food...breakfast, lunch(dinner), or dinner(supper)? 
Hmmm.  I think there is something to be said for all of them.  I am not much of a breakfast eater...usually cereal or a granola bar.  Lunch can be a hit or miss...so I will say dinner.  Of course part of the reason for that is I LOVE to cook and the only meal I really get to do that with is dinner.
And here is my question for you Tracy....what about dessert?!?!?!  :P
So there you have it.  A few more random things about me ;)
For more Caffeinated Randomness visit the amazing Andrea at Under Grace Over Coffee.
Have a fabulous weekend Peaches.