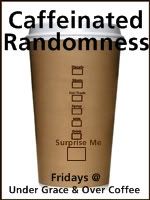 A few weeks ago Andrea did a fun list of 25 random things.  Seeing as how I love randomness and lists I am going to have fun with that today ;)  I went back to look for the list I did on facebook and turns out it was over a year ago.  Oh how things change!
25 Random Things about Critty Joy
1.  Critty is a nickname from my friend Allison.  It's a funny story as to how I got that nickname...suffice it to say her boyfriend (now husband) had a girlfriend at some point named Christy!
2.  Joy is because it is one of my favorite things.
3. Sometimes I wish I had been more creative with my blog name...like Dancing with Butterflies or something....
4.  I love the community of bloggers I know.  Seriously, YOU are fabulous.
5.   I often wish I were British.
6. Or Irish.  Yeah.  Okay.  Maybe... Both?  :)
7.  My Mom's family is Scottish and My Dad's family is Irish.
8.  I one day want to travel to both places and learn more about my ancestors.
9.  I have an addiction to Starbucks Tazo shaken iced passion tea.  
10.  I dream of living in a foreign country.
11.  I am having trouble deciding what I want to be when I grow up.
12.  I hope my sweet niece will have a passion for books so that we can share that together.  
13.  I really enjoy planning events...right now I am planning a baby shower and I think it is such fun.
14.  I think flowers make the world a better place and my favourite part of spring is when everything starts to bloom.
15.  Chocolate also makes the world a better place.
16.  And laughter.  A day without laughter is no day at all.
17.  I constantly am on the search for fabulous quotes.
18.  There is nothing like a pedicure to make me feel good after a rough day or week.
19.  I would love to have a beach cottage.
20.  And a mountain cabin.
21.  I spend time making playlists on itunes for my moods.  
22.  I think the ballet is one of the most beautiful things in this world.
23.  I keep my netflix movies for months sometimes. 
24. And during that time I watch all kinds of things instantly on netflix...but not the dvd they sent me.
25.  I have learned to love silence this year.  I find it sacred.  And beautiful.
Wow...once you start going this is really, really fun!
For more Caffeinated Randomness visit the wonderful An at Under Grace Over Coffee.
Have a wonderful weekend Peaches!