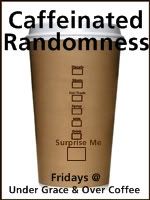 So settle in Peaches for quite the variety of randomness today.
Oh how glad I am Friday is here.  This has been a long week.  I was not feeling well earlier this week...
So I ended up in the doctor's office Tuesday morning. Turns out I have strep. And pharyngitis.
Also you are somewhat of an oddity if you are 31 and have strep for the first time ever.  (Oh dear did I just share my age?!?!)    
So this week has not been stellar...
--I spent a great amount of time playing Bejeweled Blitz, Farkle, and Farmville on facebook. Yes I know you are shaking your head at me and saying poor single girl with the sad life.  I cannot help it I find them relaxing. 
--I also spent lots of time on hulu and netflix.  Netflix now has The Proposal streaming and I am so excited. I am sure I will be watching it at least once this weekend.  **Also just a note I did return a dvd to netflix and get a new one this week.  You are shocked, I know, after reading about my penchant for keeping them for months on end.  I am looking forward to watching 500 Days of Summer...sooner rather than later!
--I created more playlists on iTunes.  I now have a workout playlist for when I feel better next week and can get back to my walking/jogging.
The highlight of my week?  Two of my favorite lovelies spoke at the A Woman Inspired Get Revived Conference this week. They rocked it.  Seriously they were amazing.  The whole conference has been amazing.  I missed several of the sessions and I cannot wait to get the mp3s!  I was so encouraged this week.  
I also spent time watching this commercial for the Amazon Kindle...
(My bloggy twin Kara shared the second one here and it is just as fabulous as this one!)
I just love the whole thing...the music...the stop motion.  It's fabulous.  I told my Mum earlier this week if I did not already want a kindle I would want one after seeing the commercials ;)
So there you have my oh so boring week.  And I must admit I am looking forward to an oh so boring weekend!
For more Caffeinated Randomness visit Andrea at Under Grace Over Coffee!

Have a fabulous weekend Peaches!