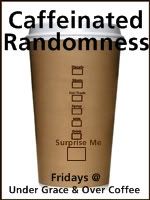 So in celebration of 300 posts and 2 years of blogging I invited you my dear Peaches to ask me questions earlier this week...so here you go....A little more info about Critty Joy :)
Andrea wanted to know....
How did you discover you wanted to go into the counseling profession? What led you there?
My Mum tells me I have always said I wanted to be a counselor when I was younger, I however do not remember this.  I do know I was not cut out to be a teacher but wanted to work with kids and teens in a setting that I could help them and also to show them Christ.  I went on a college visit to my Alma Mater and from the moment I knew they offered a degree in Counseling Psychology that it was my calling.  I love people but am more of a one on one person.  I have long been the "go-to" friend.  If you have a problem or need encouragement then I am your girl.  :)
Also, what's your favorite color? :P
Right now I am loving Turquoise and Brown. 
 Bobbi asked...
My question is weird...is it Critty as in Gritty or Critty as in Mighty...phonetically speaking. I don't know how Critty Joy sounds! HAHAHA!

It is Critty as in gritty :)  I was christened with the name my first year at my alma mater by one of my very dearest friends.  It was also my first nickname....ever.  :)
Chere had three questions :)
1. What is your favorite flower? all of them.  No really.  I adore flowers.  They make my world happy :)


2. If you could have a cup of tea with any FICTIONAL character from a book, who would it be and why?  My first though....Mr Darcy from Pride and Prejudice...because Hello?!?!?  That is one great fellow.   My second thought was Anne Shirley from Anne of Green Gables...she was such fun! 

3. What is one thing you remember LEARNING in high school that you've never forgotten? That most of Emily Dickinson's poetry could be sung to the tune Yellow Rose of Texas :)
David asked an interesting question that made me ponder....
If you could spend 25 minutes any place on earth and never go back again after that time, where would you choose and why?

I have thought about this one for days!  I would say Antarctica.  I could get a great idea of what it was like in 25 minutes and not have to worry about getting too cold!  :)
Kristen has one of my new favorite questions ever :)
I've been thinking a lot about how I want my heart to look. So, if you could show us what you want your heart to look like by using a photograph, what would you pick?

I had to think about this one for a while.  But I ended up going back to the very first thing I thought.  A Rose.  I can be like the unopened bud of a rose....tight around myself not letting anything in....but once I have developed trust in someone I open up just as the rose does.  Roses are also a hardy type of flower and I have learned that I am a strong person.  
Amy wanted to know...
I would love to know what your absolute favorite bible story or verse is and how do you relate it to your life?    The Story of the Sinful Woman Annointing the feet of Jesus.  I did a paper on this subject in my Biblical Exegesis class...learning the intricacies of this passage, the debate of whether it is Mary Magdelene, it has always fascinated me.  Her beautiful offering and His forgiveness.  The story just touches a deep place in my heart.
Also if you could have one wish granted, what would it be and why?  That there was no such thing as dementia.  Watching my sweet Memaw suffer with this disease has caused deep sorrow.  The idea of someone losing all of their sweet memories and then not remembering those that love them breaks my heart.

Rachel asked...
what would you say is the greatest blessing God has given you?

The people He has placed in my life.  My family.  My friends.  They each bring a unique blessing into my life and they also show me a wonderful part of who He is.
Wow...y'all asked some wonderful questions :)  
Thank you, dear Peaches, for following my journey and for being a part of my journey.  Each of you bless me tremendously.
For more Caffeinated Randomness visit Andrea at Under Grace Over Coffee.
Have a wonderful weekend!