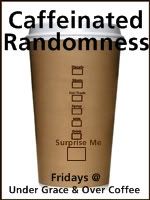 Ginger at Here's My Cup tagged me for the 8 things meme....I have done it before but you know things do change so I thought it would be fun to have an updated list!
(this post was written on Thursday...just so you know)
I have to come up with "8″ things in each of these categories, so let's see…
8 Things I Look Forward to:
1. Seeing one of my college RDs this weekend (I now consider her a sweet friend!)
2. July 4th...I think it is such a fun holiday.
3. Reading some great books in my TBR pile.
4.  Fall  :)  haha!
5. summer break at the end of July....even though I am not going anywhere. Sigh...I can dream of the beach right?!?!
6. Bible Study and chatting with The Lovelies.
7.  finding out more about a new career option (not leaving the counseling field, this would be in addition to that)
8.  two words.  CUPCAKE RETREAT.
8 Things I Did Yesterday
1. woke up at 5 a.m. (no not by choice.)
2. went to see one of my BFFs.
3. saw sonogram photos of said BFFs baby girl. (seriously....she was so adorable already!)
4. had lunch with a great group of ladies.
5. got to meet the fabulous Julie Lessman and the wonderful Missy Tippens.
6. had the most amazing frozen fruit salad...and a hot Krispy Kreme doughnut...not at the same time but it was nice to have an appetite and enjoy food....
7.  Spent an hour walking around a bookstore.
8. was in bed by 10 p.m.....I miss being a night owl.
8 Things I Wish I Could Do
1. be more diligent in my time with Abba Daddy.
2. take some photography classes.
3. know what is going on with my health.
4. go to the beach :)
5. be more organized
6. Tour Europe with some of my favorite friends.
7.  go to Israel and walk where my Savior walked (umm notice a pattern?)
8. Pour into others more. (It is only out of the overflow of Him I can do this...a fabulous reminder a friend gave me a few years go)
8 Shows I Watch (since it is summer I thought I would share some of my favorite summer shows)
1. The Golden Girls (I cannot help it, they make me laugh!)
2. The Listener (I may have a slight crush on the main character)
3. The Closer
4. HawthoRNe
5. Psych (it is coming back soon!)
6. NCIS (it's a favorite!)
7. Friends (I love that it comes on several channels...it makes me happy)
8. Army Wives
8 Bloggers Tagged
You, you, you, you, you, you, you, you, and YOU.  Seriously...I would love to read about your 8 things so if you would like to do this meme please come back and let me know you did okay! (even if you do it at a later date like I did!) 
For more Caffeinated Randomness go visit Andrea at Under Grace and Over Coffee.
Have a fabulous weekend!