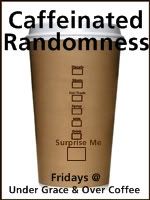 My sweet friend Jennifer tagged me for a meme on facebook about 15 books that will always stick with me.  Then my sweet friend 
Kristen
did the meme on her blog so I thought it would make a perfect caffeinated randomness post for today :)
First of all, do you know how hard this will be...15 books?!?!
Ok...
this book is changing the way I think about me...and other good Christian girls.  It is challenging and at the same time comforting.  You will definitely need tissues. :)
Elisabeth Elliot is one of my most favorite writers ever.  She has such a passion for our God and this is one of the first books I ever read about having a passion for Jesus.  Her life is so beautiful to me.
This devotional has been so good for me heart.  I think I should write Sarah Young a thank you note as it often feels as if it was written just for me.  It is encouraging and convicting.  Just what I need to hear for each day...
I just finished this book...and God used it mightly to teach me some truths about my life as a single girl.  About being content.  And most importantly about letting Him write my love story...my life story.
The O'Malley series by Dee Henderson is one of the most series ever.  Full of suspense and love.  It has many great lessons about family and great lessons about Christ.
I remember reading this book and not clearly understand what happened.  It was too much to take in.  I have long been fascinated with Jewish History and the Holocaust is sadly a part of that history.  Anne's story has always moved me and made me remember life is so very precious.
I love this series and I love Julie.  I feel like the O'Connor family became a part of my life over the last year and a half.  I have laughed with them, I have cried with them, and I have rejoiced with them.  Now that is a keeper series!
I remember reading Anne of Green Gables in the sixth grade.  I really think that is where my love affair with books began.  I wanted, no needed to be Anne.  To escape from things and be a character.  She changed me.  She dared me to dream. And I will always love this series for that.
A modern telling of Mary Magdelene...I cried through this whole book.  It touched my heart so deeply.  I love Karen Kingsbury but this book will always be my favorite of hers.
I read this book right after I came back to Christ and I have read it over and over again.  The beauty of this story, take from the book of Hosea.  I was Angel (Gomer) in so many ways.  Still my favorite to recommend to friends.
I feel in love with love after reading this book.  And Mr Darcy.  Sigh...now I want my own Mr Darcy :)  Ms Austen sure knew how to write a fantastic story!  And keep you guessing :)
This book made me realize love is always a choice.  It is not so much about feelings...but more of a constant choice to love that person. No matter what.  This is the book I re-read every single year as a reminder.  To choose love.
Oh this book.  I read it in 8th grade and I had to have a copy.  I chose this cover because it is the copy I have.... although beat up and tattered.  It opened my eyes to the injustices of this world.  It broke my heart.  It made me want to change the world.
Sadly I have no idea how many books are on this list...I just kept going and it is now 4:15 in the morning (although I have had two bosom friends keeping me company on ichat!) Oh and please forgive any spelling errors  :)  it is quite late!
I have so enjoyed thinking about these books...again.  And remembering the impact they made on me.  Now I want to go re-read each of them :)
For more Caffeinated Randomness go visit Andrea at Under Grace Over Coffee :)
So for fun...tell me your favorite book :)
Have a fabulous weekend!